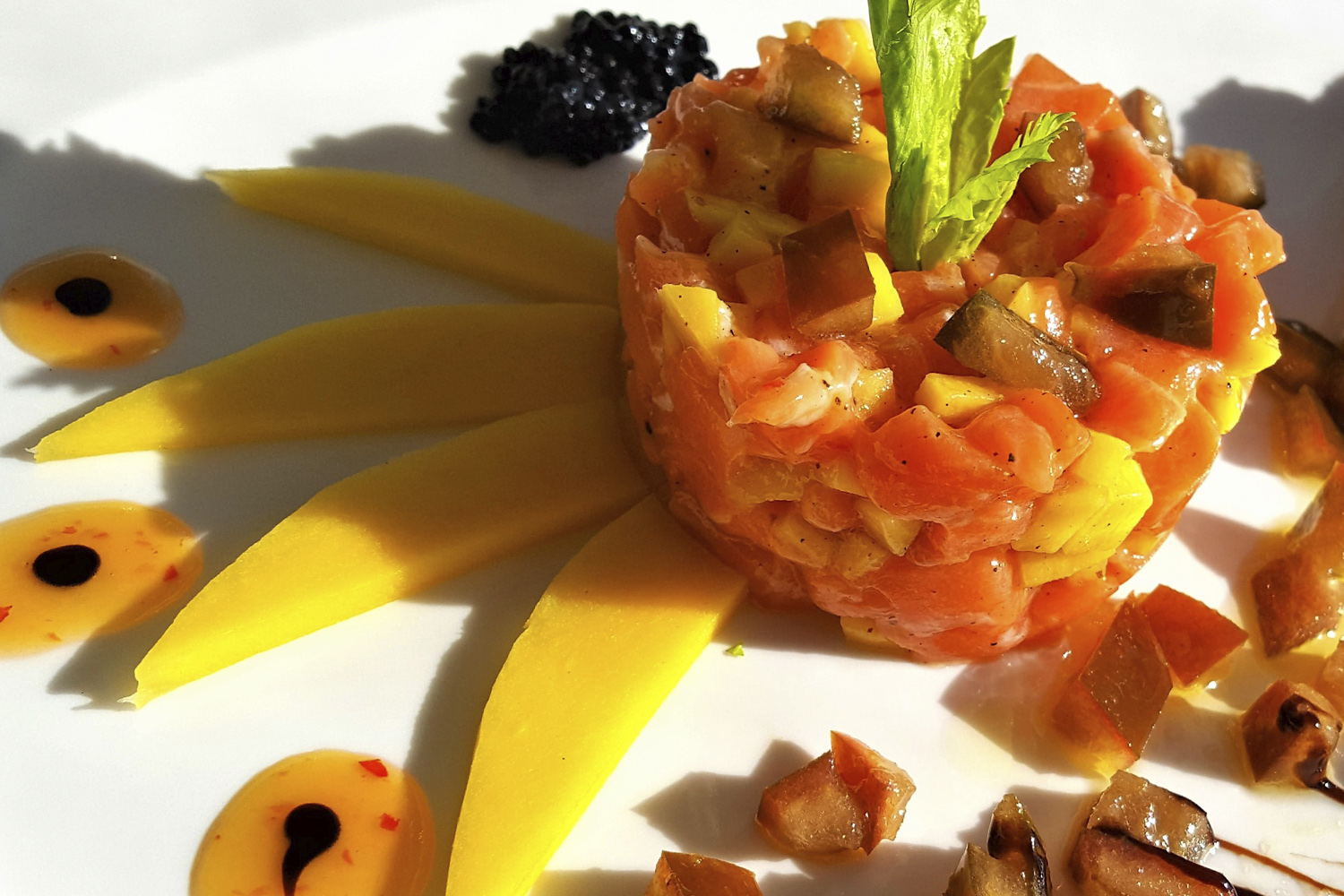 Rio Ibiza is a new restaurant, bar, lounge and club on San Antonio's seafront promenade overlooking the port and a stone's throw away from what many consider to be the best spot to catch one of San Antonio's glorious sunsets.
The locale has been completely renovated and modernised according to the vision of Franky, its founder. The food is an eclectic fusion of cuisines across the continent making up a Modern European menu using fine local ingredients from steak from the local butcher's to seafood from the fishing boats of Ibiza – you won't get much fresher than this. Their Italian chef was chosen after much searching and as you will see has got the balance just right. You will see the inventiveness of the menu reflected in such dishes as clams with Pernod; and steak with foie gras and truffle sauce. Fans of the classic dishes fish and chips and surf and turf will be delighted at how they've been re-imagined here too. For a sweet finish, the baked cherry surprise is a must try. There are also three versions of chocolate pudding – each equally delicious and hugely tempting.
You can enjoy cocktails prepared by the experienced bartenders in the bar and lounge area before heading to dinner. The wine list is extensive too and has been hand selected by one of the island's most renowned sommeliers. The venue is open daily all year round for an excellent breakfast from 9am through to dinner with the place staying on open into the small hours.
This is an elegant new restaurant and brings a brand new gastronomic experience to this part of Ibiza. Whatever you choose to do here is bound to surprise and delight. You will just love this new stylish San Antonio eaterie and will find you want to come back for more.
Rio Ibiza ist ein neues Restaurant mit Bar, Lounge und Club direkt an San Antonios Uferpromenade mit Blick über den Hafen und nur einen Steinwurf von dem Platz entfernt, an dem man die herrlichsten Sonnenuntergänge in San Antonio erleben kann.
Das Lokal wurde komplett renoviert und modernisiert, ganz nach den Ideen des Initiators Franky. Die abwechslungsreiche Karte bietet eine Fusion der Küchen verschiedenster Länder des Kontinent, eine moderne europäische Küche, mit durchweg hochwertigen lokalen Produkten, vom Metzger bis hin zum frischen Fisch von den Fischern Ibizas – man bekommt schwerlich frischeres angeboten. Der nach langer Suche gefundene italienische Küchenchef trifft die Balance genau richtig: Einerseits probiert er neues aus, wie bei den Muscheln mit Pernod oder Steak mit Foie Gras und Trüffelsauce. Andererseits kommen auch Fans traditioneller Gerichte wie Fish and Chips oder Surf and Turf voll auf ihre Kosten – sie werden überrascht sein, wie diese Klassiker hier neu interpretiert wurden. Zum süßen Abschluss ist die gebackene Kirschen-Überraschung ein Muss. Ebenso gibt es drei verschiedene Schokoladenpuddings – einer besser als der andere, eine absolute Versuchung!
Dazu gibt es Cocktails, die von den erfahrenen Mixern an der Bar und im Lounge-Bereich zubereitet werden, perfekt für einen Aperitif vor dem Essen. Die Weinkarte ist umfassend und wurde von einem der renommiertesten Sommeliers der Insel zusammengestellt. Das Restaurant ist das ganze Jahr über täglich geöffnet, ab 9:00 Uhr kann man hier herrlich frühstücken und den ganzen Tag bis nach Mitternacht essen und trinken.
Dieses elegante neue Restaurant bringt ganz neuen Schwung in die Gastronomieszene Ibizas. Was man hier auch auswählt, es wird stets eine positive Überraschung sein. Sie werden dieses neue, stilvolle Restaurant in San Antonio lieben und immer wieder hierher kommen wollen!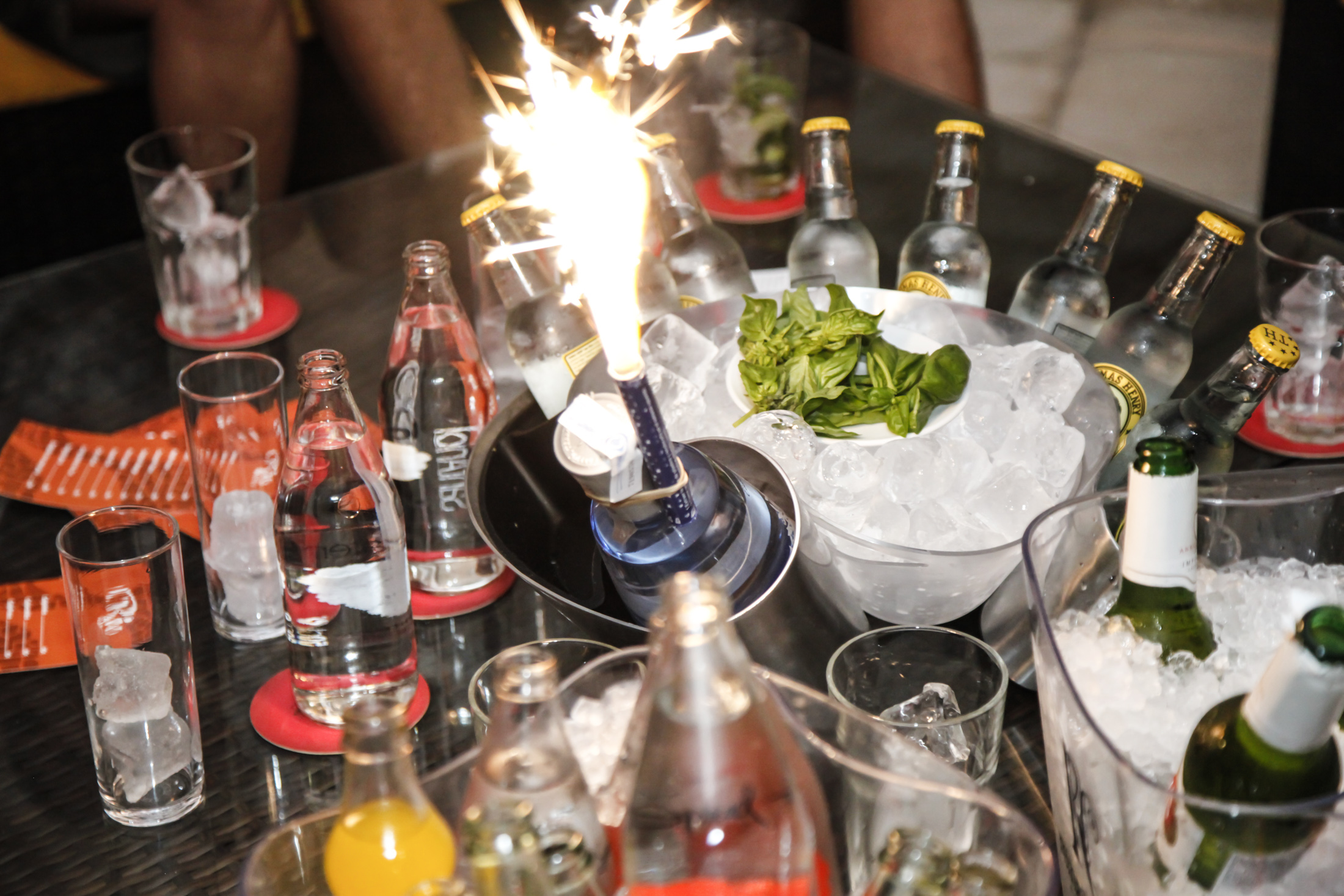 Rio Ibiza es un nuevo restaurante, bar, lounge y discoteca en el paseo marítimo de San Antonio con vistas al puerto y a tiro de piedra de lo que muchos consideran el mejor lugar donde contemplar una de las magníficas puestas de sol de San Antonio.
El local se ha reformado y modernizado por completo conforme a la visión de Franky, su fundador. La comida es una fusión ecléctica de cocinas de todo el continente conformando una carta europea moderna empleando excelentes ingredientes locales desde filetes del carnicero local a marisco de los barcos de pesca de Ibiza – no conseguirás nada más fresco que esto. Su cocinero italiano fue elegido tras buscar mucho y, como comprobarás, se ha conseguido el equilibrio perfecto. Apreciarás el ingenio de la carta reflejado en platos como almejas al Pernod y solomillo de ternera con salsa de foie gras y trufa. Los amantes de los platos clásicos fish and chips y surf and turf estarán encantados con cómo se han replanteado aquí. Para un final dulce, no debes dejar de probar la sorpresa de pastel de cerezas. También hay tres versiones de pudding de chocolate, cada una de ellas igual de deliciosa y muy apetitosas.
Puedes disfrutar de cócteles preparados por los expertos camareros en el bar y zona lounge antes de cenar. La lista de vinos también es muy amplia y ha sido seleccionada por uno de los sumilleres más famosos de la isla. El local abre a diario todo el año para un desayuno excelente desde las 9 de la mañana hasta la hora de la cena y sigue abierto hasta la madrugada.
Es un nuevo restaurante elegante y ofrece una experiencia gastronómica totalmente nueva para esta parte de Ibiza. Da igual lo que elijas hacer aquí, quedarás sorprendido y complacido. Te encantará este nuevo restaurante moderno de San Antonio y descubrirás que quieres volver a por más.
Incredible Flavours At Rio Ibiza
San Antonio is transforming. After years of being somewhat burdened with a reputation for its raucous nightlife, an exciting array of new restaurants, bars and lifestyle destinations such as fitness centres are breathing new air into the popular resort. One of these aspirational new hotspots is Rio Ibiza, a shiny gem in the crown of the harbour promenade that combines great food, good music and amazing views across three levels.
To locals and longtime Ibiza visitors, the venue – a stone's throw from the famous Sunset Strip and overlooking San Antonio's marina and the glittering bay beyond – might already be known as the former Pussycat Bar, a well established party palace that sadly came to its demise after over two decade's when building regulations demanded the site had to be redeveloped. One extensive overhaul later, and business partners Franky and Robert proudly opened the doors to their passion project's stylish new incarnation this June.
After a busy first summer that saw many holidaymakers discover the delicious – and outstanding value – culinary offering of Rio, as well as the comfortable lounge bar, state-of-the-art club and breathtaking rooftop views, now the team is inviting island residents and locals to enjoy their hospitality and explore the tasty food, handpicked selection of wines and expertly crafted cocktails. And there's no better time than now, as from November 1st the eatery is taking part in San Antonio's Restaurat gastronomy competition. To show off the variety and quality of their offering, Rio's two new chefs have put together a special seasonal menu that includes such treats like pumpkin cream with tuna tataki for a starter, their signature sirloin steak with pumpkin fries as one of the mains and pumpkin tarte tatin with cinnamon ice cream for dessert, all available for just 15 Euros or 18 Euros including a pumpkin-infused 'Chupito de Martini' aperitif.
Essential Ibiza visited the restaurant on a starry October night to check out their foodie treats, which we had heard are excellent, ourselves. Greeted warmly by Franky, we were given a quick tour of the venue and were left thoroughly impressed by the modern interiors and amazing views before we even sat down at our table. The club space on the first floor boasts not only floor-to-ceiling windows that give the party an impressive backdrop of the beautiful harbour, but also one of the coolest light installations we have ever seen, a high-tech construction conceived by the engineers behind the iconic Space productions.
One level up, guests can enjoy cocktails – and in the future food – on the sleek roof terrace, with a panoramic vista across the bay. All areas are available for private hire, making Rio the perfect destination for birthday or hen and stag parties. And with plans for fun food concepts like 'Ribs on the Roof' and paella nights already in the making, we can't wait to see what the 2017 season will hold for Rio
But let's go back to the autumnal culinary delights to be enjoyed right now. Our meal started with a complimentary basket of warm seeded bread rolls (yum) and a plate of spicy gyoza dumplings that delivered a surprising kick! For our starters, we tucked into two delicious Caesar Salads, one with breaded chicken chunks and the other with juicy tempura prawns – an innovative take on the classic dish. We swooned over a plate of the most delicate veal carpaccio garnished with luxury truffle, cherry tomatoes and tangy slithers of parmesan cheese, while a huge bowl of crunchy quinoa and goats cheese salad filled to the brim with superfoods like beetroot and seaweed almost had us fork-fighting it was so good.
Following Franky's recommendation, for our main courses we chose Rio's signature BBQ spare ribs served with creamy mashed potatoes. With the meat literally melting off the bone and smothered in a sauce unlike any we had tasted before, it's not surprising the dish has become a customer favourite. A haute cuisine creation of tuna served on a sweetcorn sauce and topped with delicate strands of crystalised bread and foie grille looked and tasted like a dish you would find in a Michelin-starred restaurant for three times the price, while the eatery's beef tenderloin – juicy meat served on fluffy rice – was garnished with an incomparable sauce that used morel mushrooms which cost 180 Euros per box on a 25 Euro plate. Meanwhile, the special of the day, a tender and soft salmon fillet coated in a beautiful honey glaze with hints of orange blossom, blew our collective minds. More than anything, we were wondering how Rio manages to serve food of such high quality at such competitive prizes, not that we are complaining.
You might not believe us that we still found room for dessert, but as experienced food reviewers – and helped by a cheeky chupito of Jaegermeister – we managed to squeeze in another course. A classic tarte tatin was given an exotic update with a scoop of luscious coconut ice cream, while the Lamborghini cheesecake was rich with a perfectly baked crust and set off against sweet berry coulis – to die for! A generous helping of indulgently smooth chocolate and coconut ice cream came with lashings of whipped cream, sliding down way too easily. But for those with a serious sweet tooth there is really only one option: the chocolate fondant. Served warm, with a river of gooey sauce in the middle and served with vanilla ice cream to contrast the rush of sugary goodness, it is one postre worth writing home about. Eventually we left Rio with full bellies, happy faces and the urge to shout from the rooftops just how much this new hotspot is worth trying, certainly a discover we will share with all of our friends.